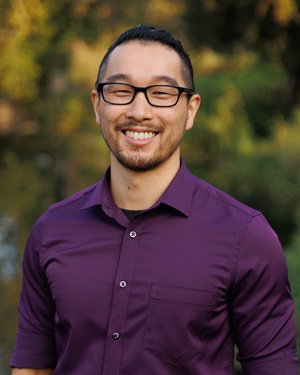 Hi, I'm Dr. Jon!
I joined Sunnyside Orthodontics as a helping hand for Dr. Brown as the office got busier and busier. It has been absolutely incredible getting to work with everyone and become a part of the community. I can honestly say that practicing orthodontics provides a lot of fun and fulfillment every single day. I feel everyone has an amazing smile within themselves, and I love to help people let their smile shine!
I grew up as a pretty shy and quiet kid. I was not particularly outgoing and NEVER smiled showing my teeth. I wasn't even embarrassed about it, but it just didn't feel right. After my personal orthodontic journey, it felt like the most natural thing in the world to grin from ear to ear and let my smile beam like the sun! It finally felt great.
Transforming a smile isn't just about straight teeth; it's about improving self-confidence and living happily. It is super cool watching kids come into the office and see that they are now taller than I am. I also love seeing adults come in with a more positive, happy attitude. Treating patients gives my-introverted-self a chance to learn more about our patients' lives, encourage them through tough times, and celebrate their successes. If you need a cheerleader, I'll always be on your squad.
One of the "hidden" satisfactions of orthodontics is helping patients establish a well-balanced bite for life. When I expressed interest in orthodontics, my dad would always say: "You should advertise that you need a good bite in order to eat all the good foods!" As a foodie myself, I think there is a lot of truth to that. If you experience discomfort in your bite, I'd love to help you bite into that apple or the lettuce in your sandwich.
Education and Continuing Education
Bachelor of Science in Bioengineering – Oregon State University, 2011

Doctorate of Dental Medicine – Oregon Health & Science University, 2016

Certificate of Orthodontic Specialty – Oregon Health & Science University, 2018
Orthodontics as a profession is deeply rooted in a lot of tradition and history, but it continues to improve as knowledge and technology advances. I strive to always improve my fundamental skills in orthodontics with traditional bracket-and-wires and clear aligners. I am excited to continue learning more about 3D printing, laser technology, AI-integration, and airway-related orthodontics.
Professional Affiliations
Board-Certified by the American Board of Orthodontics

Assistant Professor at Oregon Health & Science University

American Association of Orthodontists

Pacific Coast Society of Orthodontists

Oregon State Society of Orthodontists

OHSU Orthodontic Alumni Association

American Dental Association

Oregon Dental Association

Clackamas Dental Society
I stay involved in many local and national communities to help advocate for the orthodontic profession. I am a past president of the Oregon State Society of Orthodontists and continue to help the board organize meetings and stay aligned with the Oregon Board of Dentistry. I am an active officer of the OHSU Orthodontic Alumni Association and help support a culture of warmth and respect. I am a member and the current Oregon Director on the board of the Pacific Coast Society of Orthodontists which represents orthodontists all across the West Coast including Alaska, Hawaii, and parts of Canada.
I am also a part-time instructor in the orthodontic department at OHSU. I absolutely adore teaching – it is amazingly fulfilling and satisfying. Interacting with orthodontic residents and dental students helps keep me on my toes and forces me to think through everything with a critical lens. I hope to continue teaching and inspiring young professionals for my entire life.
Our Team
There is absolutely no way I would be able to provide such exceptional care to all of our patients without our remarkable team. I will forever be grateful for the help the team provides. Even beyond the office, I hope to continue fostering our friendships and cheering them on.
I also want to highlight what an absolute honor and privilege it is to work alongside Dr. Brown. His mentorship has been incredible. I have learned and continue to learn so much every day. Textbooks are great, but it is invaluable having an experienced and successful professional providing wisdom and guidance. I love that we can discuss cases together, critically evaluate our outcomes, and provide the highest level of orthodontics.
Outside the Office
I was born and raised alongside an older brother in Salem, OR and came to the Portland metro in 2012. My parents both spent a large part of their childhoods in China, but they actually met at Portland State University. I often see my parents to explore restaurants or visit with my orange cat, Mango. I enjoy spending time in the gym lifting, in the kitchen cooking, and in the wilderness camping and hiking. I'm also a big nerd and love all things video games, anime, and Dungeons & Dragons.